I made a vow to use my vacation days this year. All of them.
I booked this Northern California adventure on one the coldest of days in January, wrapped in a wool blanket as yet another blistering snowstorm whirled outside. My brother and his wife live in South Lake Tahoe, and a summer trip to the mountains and the lake seemed like the perfect winter antidote. I've always wanted to attend the Wanderlust Festival, a yoga and music fest held at Squaw Valley in North Lake Tahoe, so we planned around that!
John and Greta picked me up from the airport late on Tuesday, even when my flight was cancelled and I was re-booked to arrive in Sacramento—two hours away. (Thanks, guys!) After the obligatory In-N-Out Burger trip, we pulled off the side of the road at a clearing looking out on Lover's Leap to stargaze. The sky was a dome spattered with stars and the Milky Way stretched as far as I could see. It looked like a painting.
On Wednesday we packed the car to the brim with camping gear and made our way to D.L. Bliss State Park. The original plan was to sleep under the Half Dome at Yosemite, but the wildfires had smoked us out. I was a happy camper, nonetheless. We pitched the tent and set up a little village of hammocks and locked our food in a bear box (!) before making our way to Lester Beach. We hiked through Jeffrey Pines and past the little Rubicon Point Lighthouse, which has the highest elevation of any lighthouse in America standing at 6,300 feet above sea level! The water at Lester Beach is cerulean blue. Its so clear you can see your toes underwater. The beach was like a little secret paradise, a stretch of sand hugged by towering pines. We returned to our campsite and John made a steak dinner with the camping stove. We built a fire and played board games and it was exactly everything I'd wanted for my very first camping adventure.
The next morning, after packing up camp, we hiked the nearby Cascade Falls Trail. Ralston, John and Greta's steadfast Australian Shepherd, led the way through the a winding forest path and over boulders. At the top, we sat on an outcropping of granite rocks overlooking waterfalls, Cascade Lake, and Lake Tahoe beyond. That night we drifted on floaties listening to a concert at Lakeview Beach from the water.
On Friday, Greta and I prepared for the lynchpin event—Wanderlust! We drove to North Lake Tahoe to Squaw Valley resort, the host site of the 1960 Winter Olympics, for the weekend yoga extravaganza. We set up camp in the Squaw Valley parking lot, in a sea of RVs and car campers. From the tent you could see the gondola ascend over the mountain peaks. That night we listened to the Wanderlust House Band, dancing and cartwheeling in a field below a sky of stars.
I started the weekend with a music meditation hike. I followed musician Garth Stevenson and his double bass up a mountain. Dozens of people gathered at a plateau, and Garth improvised music while we sat in quiet stillness. He was grateful for the attentive audience—he usually plays his music in nature to a raft of penguins or sunbathing sea lions. For real! I was so relaxed listening to the birds hum and the music fill the mountain air. My hometown friend Jess was there, too, it was surreal. What a small world.
I joined Greta for another meditation session, and we listened to this incredible group of acappella singers called Beautiful Chorus. Then we took the gondola for a 2,000-foot ride 550 feet above the mountainscape to High Camp for an Amplified Yoga class. The class was indeed amplified—our yogic experience was accompanied by a live DJ! Donovan Vriens-McGrath led us through an incredible mental and physical and emotional journey. We danced out our fears, shouted out mantras, awakened our seven chakras, made promises to ourselves, and left past regrets on the mat. It was the most invigorating and soul-awakening experience I think I've ever had.
That afternoon we went to a pool party at an elevation of 8,200 feet. We sat in the hot tub overlooking panoramic views of Lake Tahoe and mountain peaks. Then we closed out our yoga day with a yin yoga hip opener class. The instructor demonstrated the proper alignment for certain poses using a skeleton named Norm. We sat in pigeon pose and frog pose and dragon pose and all the poses that hurt until they feel good.
John joined us that evening for the music portion of Wanderlust. We danced to MarchFourth!, a marching band and performance group from Portland with an amazing horn section, cheerleaders, and inflatable dinosaurs. Our last hurrah was to the silent disco. Yes, silent. I thought we went to the wrong tent because I didn't hear any music—but three DJs were stationed at the front and the crowd was bopping to music in their headphones. You could switch between the three stations. It was fun!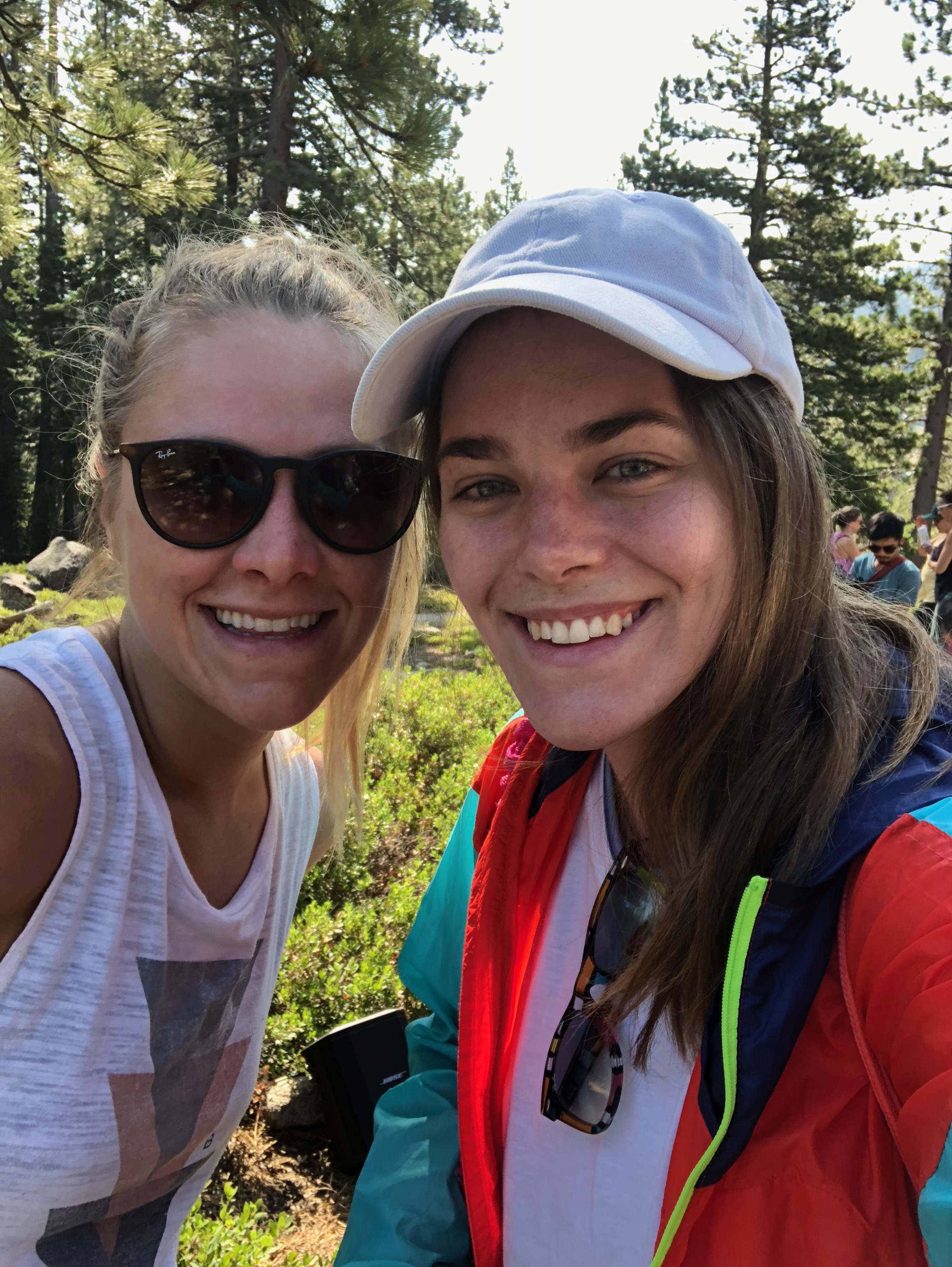 On Monday evening we went to the Lake Tahoe Shakespeare Festival at Sand Harbor Beach for a performance of A Midsummer Night's Dream by the Sierra Nevada Ballet. A rainstorm cleared and the skies opened just before the show. The outdoor stage is framed by towering Ponderosa pine trees and set against the awe-inspiring backdrop of the lake. I thought the plot would be hard to follow without words, but the story of love potions and spritely fairies transferred beautifully to ballet.
On Tuesday, we went on a three-hour paddle boarding excursion. We followed a brood of baby ducklings in the teal water and stopped to explore a field of wildflowers just beyond the beach. My shoulders were on fire, but it was a fun workout!
Our final adventure was to Zephyr Cove Stables to ride horses! On the tour, you could see the lake through the trees. It was so different from any horseback riding I've ever done in Pennsylvania—I've always been sequestered inside a corral. Here the horses traversed the rocky terrain, winding through a narrow hillside path. My horse's name was Petey, and he was the mischievous one in the group. He kept wandering off the path to gather snacks and running ahead of the guide. I thought he might gallop up the mountainside!
My trip was bookended by a final trip to In-N-Out Burger. We drove to the Reno airport as the sky turned blush pink. It was hard to say goodbye to John, Greta, Ralston, and the beautiful mountains. Until next time!